Starfleet Field Jacket, circa 2259
The field jacket is worn by Starfleet personnel participating in landing party activities including planetary excursions and other activities where tactical operations are not anticipated. Oversized pockets allow the carrying of various small survey and engineering equipment as well as personal weapons and communicators. The jacket typically features no rank or other insignia.
This Field Jacket is the creation of designer Bernadette Croft. The Operations Division Starfleet Duty Uniform is worn by actor Bruce Horak for his portrayal of Enterprise chief engineer Hemmer. It is a creation of costume designers Bernadette Croft and Gersha Phillips and the Star Trek: Strange New Worlds costume department.
Guessing a match for this color is difficult especially as the leather is a bit reflective. The values below are shots in the dark based solely on the image above after exposing for the chip card. Since the red of the tunic is a known value (see other posts) it may be helpful.
Division Fabric (Downloads)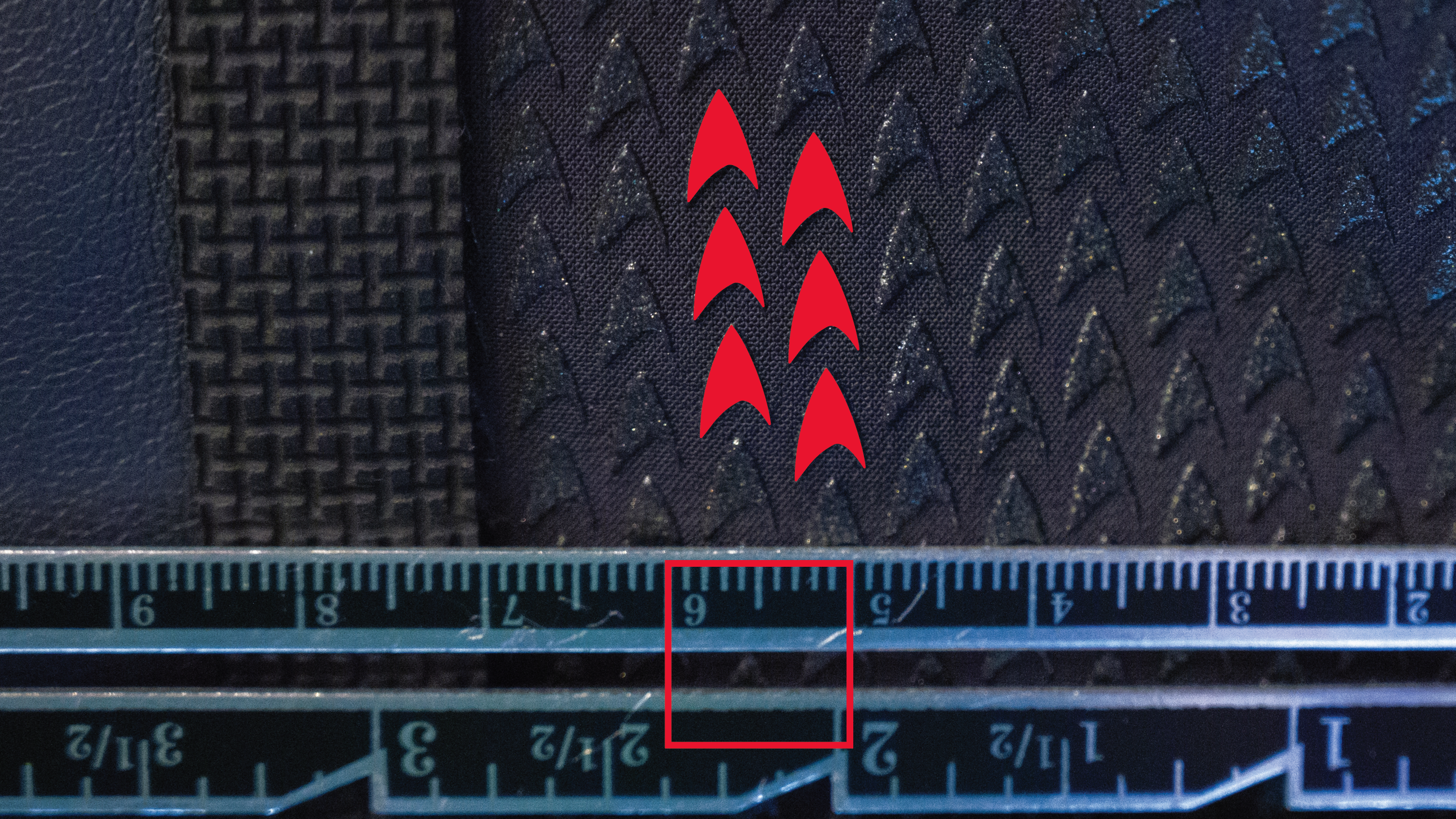 The raised superhero-esque print used on these uniforms sits much more flush with the fabric than the deltas on the Discovery uniforms. I scaled the image to actual size in Illustrator, then traced and averaged the pattern before tiling it. Since the fabric was not laying flat, I only based the traced pattern on stars in the center of the frame and closest to the ruler to minimize distortion. Below are tiled Illustrator files you can download. One large sized 30″x60″ and another smaller 8 1/2″x11″ sized. Print at 100%. Do not scale.
Fleet Jacket Delta Pattern Downloads
The shoulder detail is tri-toned and stitched on. 
The textured bands seem to be cut from some larger sheet as the edges of the repeating pattern are not exactly even. The bands also appear to be glued on and continue into the seam allowances. A reverse Google image search brought up this on AliExpress. Not sure if the scale is correct but the pattern looks very similar.
Still rockin' YKK zips in 2259.
Full Resolution Photos (Download)
Can't get enough? Here's a google drive link where you can download full resolution photos of everything in this post and the other uniforms I photographed during the exhibit.